WEDNESDAY 22 JUNE 2016
Time for something of a different sort.
On 22 June 1986 Argentina defeated England 2-1 in the quarter-finals of the World Cup. Both Argentine goals were scored by their star striker, Diego Maradona. The first was the infamous "Hand of God" goal. The second, a few minutes later, is described as one of the best goals ever.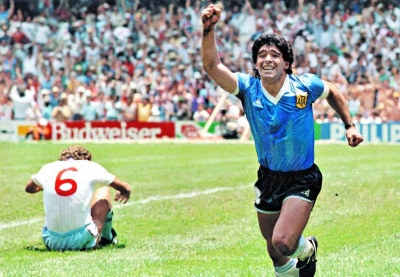 Here is how Víctor Hugo Morales, a journalist from Uruguay, described the "Goal of the Century" in his commentary (credit to Wikipedia for the translation from Spanish):
"He's going to pass it to Diego, there's Maradona with it, two men on him, Maradona steps on the ball, there goes down the right flank the genius of world football, he leaves the wing and he's going to pass it to Burruchaga … Always Maradona! Genius! Genius! Genius! There, there, there, there, there, there! Goaaaaaaaal! Goaaaaaaal! I want to cry, oh holy God, long live football! What a goal! Die-goal! Maradona! It's to cry, excuse me! Maradona, in a memorable run, in the best play of all times! Little cosmic comet, which planet did you come from, to leave so many Englishmen behind, so that the country becomes a clenched fist crying for Argentina? Argentina 2, England 0! Die-goal, Die-goal, Diego Armando Maradona! Thank you, God, for football, for Maradona, for these tears, for this Argentina 2, England 0."
And here is footage of the legendary goal:
______________________