"The story so far: I was born, we moved, then I went to school; then we moved again, and again, and a few more times; then I went to university, then to another university; then I went to Korea, then I went back to South Africa, and then I came to Taiwan. Then I wrote another few hundred pages to add to a few hundred pages I had written in previous years about why I do what I do.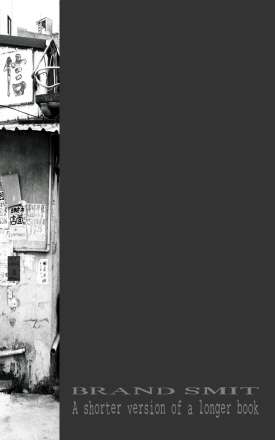 Then, while waiting for a train at a deserted station, it suddenly occurred to me that there is too much material to publish as a single book. Then the next day I went to pay my phone bill and on the way I thought of a title for a shorter book with selected material. Then I sat down behind the computer and wrote this text.
There, the condensed version of my life so far, who I am, and how this book came into existence."
———————
"If you have no home, no possessions, neither friend nor family, you do not do much while you are awake, you do nothing to make money, you hold no religious beliefs and you never have conversations or respond to what other people say, then who are you? What are you?"
———————
CONTENTS
Prologue
1997-1998
IDEALISTS and their conflict
Reconciliation with the monster
Commitment and place
Story of two travellers
1999-2001
Icarus journal, entries # 13 ~ 15
To be remembered
A most important lesson
The purpose of my life
The beautiful world
Almost the end
To talk about God
2003
Personal Agenda, Book One: Introduction
Money and self respect – a few thoughts
Word games
Last outburst (before the end my vacation)
Creative, fulltime
Wealthy, in the world of money
To be part of something bigger
My current life
The (real) value of money
On the technical aspects of belonging and membership
End contemplation, part one/The ultimate hope
Belonging and mobile membership
Who and what
Three incidents
On the next generation: Parenthood
Just another piece of writing
A thought brews in my head, part two
Note on Christmas Day, 2003
Note on Saturday, 27 December 2003
2004
In the service of an idea
Money and art
Note on Monday, 19 January 2004
Note on Saturday, 24 January 2004
To be all right
Note on Tuesday, 17 February 2004
Note on Wednesday, 18 February 2004
[The Big Untitled]
The SELF is born (and other notes of a particular day)
I own seven pairs of underwear …
The SELF.
I know who I am
Accept yourself (even if it's only to save time)
Small house, big world
Results of a life
Puzzle people
It's only a game, and the rules can be figured out
Identity, the SELF, and the result of everything
The GIVEN SELF, and the role of intellectuals
On rebirth, and a "new" SELF
The formula that leads to result
What is GIVEN, and what you CHOOSE
Money, the labour market, and how you function
I still believe …
"I, now" and related notes
Origin of the SELF (and do reptiles have souls?)
———————
A shorter version of a longer book is now available in the following formats:
PAPERBACK: US$9.95, £5.99, €7.49
DIGITAL: various formats: US$6.99
Smashwords – EPUB (iPad, Sony Reader, iPhone, Kobo, Nook, BeBook, and other e-readers, including PCs), MOBI (for Kindle, as well as Windows computers and other e-readers), LRF (Sony Reader), PDB (Palm Doc)
DIGITAL: Amazon Kindle edition: US$6.99*
Amazon – free international wireless delivery via Amazon Whispernet
* Please note that Amazon reserves the right to change prices without notifying the author/publisher, so the above price may not correspond with the price at amazon.com
DIGITAL: PDF: US$6.99
E-Junkie – PDFs are viewable by most electronic reading devices, including many e-readers, tablet PCs, and, of course, notebooks and ordinary home computers.
———————
QUESTIONS? Contact me: admin[at]assortednotes.com
______________________