"I was born in the Republic of South Africa. I understand two of the languages that are spoken in the Republic of South Africa. One can buy pecan nut pie at the Spar in the Republic of South Africa. You can also buy Afrikaans newspapers there. You do need a car, though, if you want to go from Middelburg to Bronkhorstspruit, or vice versa. You also need a car for other reasons. If a man is 32 years old and he doesn't have a car, it wouldn't make a difference that he has lived in Northeast Asia for seven years, nor would it matter that he can speak broken Chinese, or even that he has written a two-in-one book that can prop up a bracket-less anti-glare filter at just the right height against a computer monitor. All that will matter is that he does not have a car – which means he's not much better than a tramp."
* * * * * * * * * * *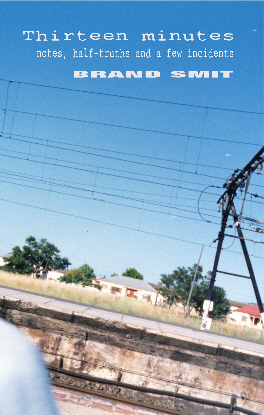 If someone has to write a review of this book, he or she might say it's his most accessible book to date, even commercially marketable, although still not intended for the mass market, and still not intended for children.
CONTENTS
(The linked titles will open in PDF)
Cuttings from the writer's testament, April 1994
The typewriter
Jacob creates an illusion
The truth is too sweet (for a hungry man)
Saturday, 31 October 1998
Foreign man orders a cheeseburger in Taiwan
Calm down for heaven's sake
The apartment (and other things)
The woman
Bernard and the unbelievers, or, the dream of the post office, the dog that jumps on the scooter, and the room in the house in the suburbs late at night
The mummy and the night market
What people do
New rhythms and old insights
Almost the end
An alter ego short story fragment
Sunday, 19 Augustus 2001
Brahms and the piece of paper
Conversation with a former lover (part one)
The one who got away/The eternal hope
Piece # 245: On potato salad
An awesome weekend
Reality, and a few other facts
MOVING THINGS AND PEOPLE: Round-a-bout the middle of March – Either, or … end of November/start of December – Definitely late January
Scorching kebabs
Conversation with a former lover (part two)
Thirteen minutes on a Saturday night
Three incidents
Dinner, not looted
Saturday, 27 December 2003
Let's write something …
Bluelake says goodbye for now: A press release
THE COMMERCIAL DICTATORSHIP: A revolution of a different kind – The 99 Days of the Commercial Dictator – COM-DIC Document 001 – A computer piece: Monday, 12 April 2004 – Not an exile essay even if it looks like one – Note to the Commercial Dictator – The end of a (short) era
Fasten the tent flaps
Options
(Initially) Powerless Friday
Houseplants are common (not that I'm a classist)
A new approach?
THE SILENCE OF WIDE OPEN SPACES: Sunday, 8 August 2004 – Friday, 13 August 2004 – Sunday, 15 August 2004 – Friday, 20 August 2004 – Saturday, 4 September 2004
Who am I really?
The 41st Thursday
An existential tale
Thoughts on a train
Document 1_181104_2359
Tiles
Departure point
Thought on Friday, 14 January 2005 at 14:39
Liao-fan's one lesson
RAIN IN BRONKHORSTSPRUIT: Thursday, 10 February 2005 – Thursday, 17 February 2005 – Monday, 21 February 2005
Dream of salt, two women and an egg
Not my final entry
Twelve minutes on my bicycle
____________________
Thirteen minutes – notes, half-truths and a few incidents is now available in the following formats:
PAPERBACK: US$7.95, £4.95, €6.49
DIGITAL: various formats: US$5.99
Smashwords – EPUB (iPad, Sony Reader, iPhone, Kobo, Nook, BeBook, and other e-readers, including PCs), MOBI (for Kindle, as well as Windows computers and other e-readers), LRF (Sony Reader), PDB (Palm Doc)
DIGITAL: Amazon Kindle edition: US$5.99*
Amazon – free international wireless delivery via Amazon Whispernet
* Please note that Amazon reserves the right to change prices without notifying the author/publisher, so the above price may not correspond with the price at amazon.com
DIGITAL: PDF: US$5.99
E-Junkie – PDFs are viewable by most electronic reading devices, including many e-readers, tablet PCs, and, of course, notebooks and ordinary home computers.
———————
QUESTIONS? Contact me: admin[at]assortednotes.com
______________________